New York City (NYC) latest news updated in real-time by rss feeds.
NBC New York – Local News

Police are searching for a man caught on surveillance video throwing a Molotov cocktail into a 24-hour mini-mart in Brooklyn, setting the clerk inside on fire.

Photo Credit: NBC 4 New York
Posted on 24 April 2014 | 10:56 am
.

Police are investigating the death of a young boy found on top of scaffolding outside a Bronx building Wednesday afternoon.
Posted on 24 April 2014 | 10:56 am
.

An elderly couple was hurt during a violent home invasion in Queens when men posing as maintenance workers got into their home, tied them up and brutally assaulted them, police say.
Posted on 24 April 2014 | 10:56 am
.

Authorities say five men associated with a Williamsburg neighborhood watch group have been indicted on gang assault and other charges in the brutal beating of a 23-year-old Brooklyn man that left him blind…
Posted on 24 April 2014 | 10:56 am
.

Police are looking for a Bronx supermarket customer who chucked a can of soybeans into a woman's face when he missed his intended target during an argument inside the store. Police are looking for a…
Posted on 24 April 2014 | 10:30 am
.

Parents in Palm Beach County may soon have to clean up their outfits as the school board discusses a possible parent dress code.

Photo Credit: Getty Images
Posted on 24 April 2014 | 6:47 am
.

A child was hurt when debris from a construction site at a building on Manhattan's west side fell and struck the child, authorities say.
Posted on 24 April 2014 | 1:46 am
.

Hundreds of millions of dollars promised to Sandy victims could go to other disaster areas in the country. Brynn Gingras reports
Posted on 24 April 2014 | 12:40 am
.

The city comptroller's office says median rents across New York City rose 75 percent over a period of 12 years, while New Yorkers' medial real income declined by nearly 5
Posted on 24 April 2014 | 12:38 am
.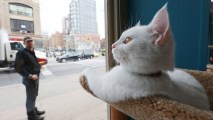 A pop-up cat cafe is set to open in downtown Manhattan later this week, allowing visitors to pet free-roaming kittens while relaxing over coffee.

Photo Credit: Courtesy Purina ONE
Posted on 24 April 2014 | 12:25 am
.
WNYW – NYC News
A store clerk inside of a Brooklyn mini-mart was set ablaze when an enraged sicko threw a Molotov Cocktail into the store. It happened just before 2 a.m. on Wednesday at the store on Fort Hamilton Parkway.The 34-year-old store clerk had his hair and coat catch fire in the attack.
Posted on 24 April 2014 | 11:10 am
A 9-year-old boy plunged to his death out of a 30-story building in the Bronx. It happened at about 5:05 p.m. on Wednesday.

Posted on 24 April 2014 | 10:46 am
Mark Shand, the brother-in-law of the Prince of Wales died Wednesday after falling outside a hotel bar and suffering a head injury, police said. Mark Shand, the brother of Prince Charles' wife, Camilla, Duchess of Cornwall, was in New York for a charity auction at Sotheby's.

Posted on 24 April 2014 | 10:33 am
Board members of the Port Authority of New York and New Jersey revealed a deep split Wednesday over the agency's role in effecting the completion of the long-delayed 3 World Trade Center project, with some commissioners lauding the effort and others expressing grave concerns. The discussion at the monthly board meeting offered a rare glimpse into the negotiations that have been going on behind the scenes in recent months.

Posted on 24 April 2014 | 1:03 am
God's Love We Deliver provides meals to people in the New York City area who are too sick to shop and cook for themselves. Clients also receive birthday cards that are decorated by local school students. Sometimes a cake is the only birthday gift that God's Love's clients will receive.
Posted on 23 April 2014 | 10:36 pm
The mayor's office is saying one thing. The charter schools another. It is a lot of he said, she said. The bottom line is that right now the future of three charter schools is still unclear. Jennifer Duran is afraid because she doesn't know where her two children are going to school next year. Both kids attend success academy Harlem 4, one of three charter schools that still does not have a set location. The other two charters are Success Academy Jamaica in Queens and Success Academy City Hall.
Posted on 23 April 2014 | 9:58 pm
New York City police say a 2-year-old boy fell out of a third-story window overnight but was not hurt.
Posted on 23 April 2014 | 6:04 pm
A tiny new spy device aims to automatically transcribe and Tweet overheard conversations. It's called Conversnitch. Brian House and Kyle McDonald are behind the eavesdropping device. They say it bridges the gap between (presumed) private physical space and public space online.
Posted on 23 April 2014 | 4:41 pm
Mayor Bill de Blasio is pulling back the reins on his plans to quickly get rid of New York City's horse-drawn carriage industry, stung by a recent outpouring of support for the colorful coaches that have clip-clopped their way through Central Park for more than 150 years. A campaign pledge to take on the horses during his first week as mayor was eclipsed by other issues.

Posted on 23 April 2014 | 2:20 pm
A NYPD plan intended to better connect with the community seems to have backfired a bit. The police department asked its twitter followers to share pictures of themselves with New York City police officers using the hashtag "myNYPD." Some did share nice pictures, but others not so much.Some of the first pictures posted showed regular citizens standing with very friendly looking police officers.

Posted on 23 April 2014 | 10:23 am